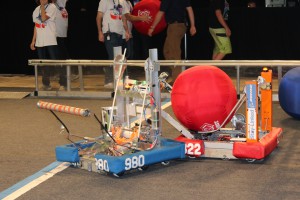 FRC team 980 competes in two FRC regional competitions each   year. At these competitions we compete with teams from different cities, states and even countries to compete in several aspects of the FIRST ideals. Teams compete in two main categories: robotics and team spirit. The winners of each category can advance to the World FRC championships in St. Louis each year.
Regional competitions span two days; most teams arrive the night prior to the competition to set up their "pit" area, their workspace. The majority of the first day is spent working on the robot, attaching parts and making modifications. Practice matches also occur on the first day, preparing teams for the qualifications matches the next day.
Day 2 is when the qualification matches occur. For each match, six teams compete, with three on each alliance. These teams compete to earn the most points in a 2½ minute period. The top 8 teams advance to the elimination matches, where they choose alliance partners to compete with them in the elimination matches.
Throughout the course of the competition, volunteer judges observe the teams, seeing how they work together to overcome challenges. Students also make presentations to the judges describing their teamwork skills throughout the season. These presentations include a written essay, a short video and a spoken overview of the team.
Once the elimination matches have been completed there is an awards ceremony to recognize outstanding teams for their efforts. Awards include: Robot Design for an exceptionally well designed robot, Safety for a team that exemplifies safety in their workspace and the Woodie Flowers award for an exceptional mentor. The second most important award is the Regional winner award, which goes the alliance that won the elimination matches. The most important award is the Chairman's award, which goes to the team that makes the biggest positive impact on their community by working actively on not only their robot but for community benefit.